An exploratory Health Equity workgroup meets as part of the monthly Heartland Healthy Neighborhoods meetings and learns about health equity issues in our community through open and facilitated discussions.
Participate in a Deliberative Conversation
Download the flyer for Spring 2019 Deliberative Conversations hosted with the Health Equity workgroup and the Topeka and Shawnee County Public Library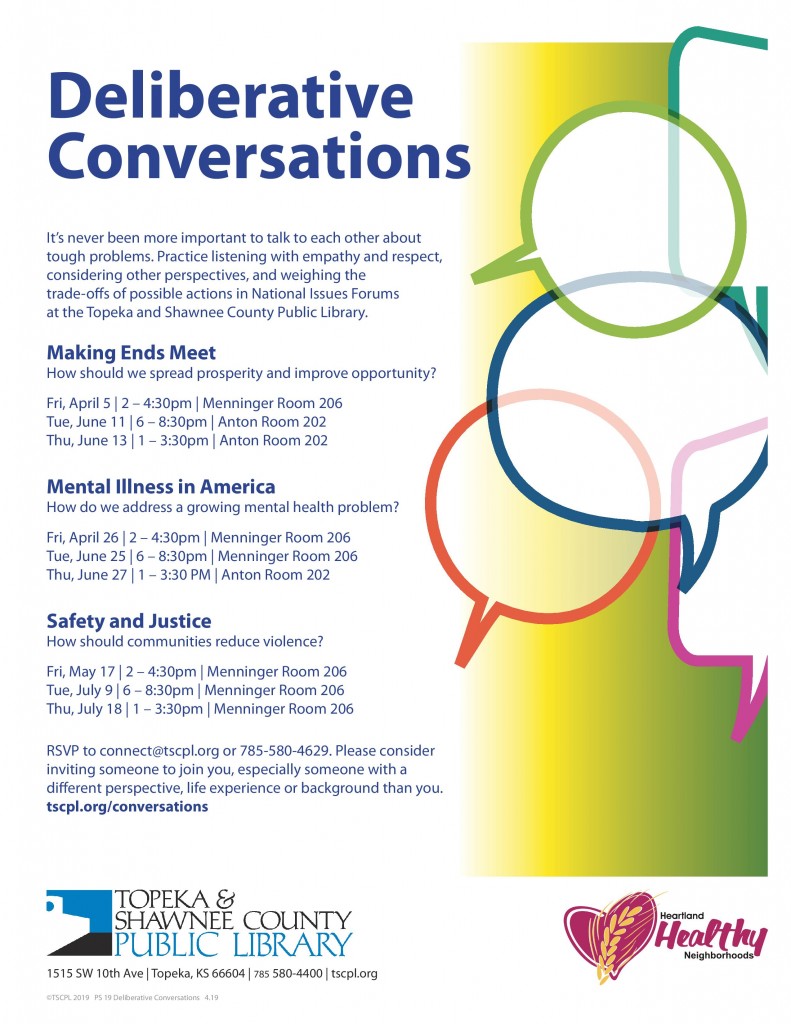 What is health equity?
In a report designed to increase consensus around meaning of health equity, the Robert Wood Johnson Foundation (RWJF) provides the following definition: "Health equity means that everyone has a fair and just opportunity to be healthier. This requires removing obstacles to health such as poverty, discrimination, and their consequences, including powerlessness and lack of access to good jobs with fair pay, quality education and housing, safe environments, and health care." Read the full report.
Healthy People 2020 defines health equity as the "attainment of the highest level of health for all people."
National Academy of Medicine report, Communities in Action: Pathways to Health Equity
What are health inequities and health disparities?
According to the American Public Health Association, health equity means that everyone has the opportunity to attain their highest level of health.
Inequities are created when barriers prevent individuals and communities from accessing these conditions and reaching their full potential. Inequities differ from health disparities, which are differences in health status between people related to social or demographic factors such as race, gender, income or geographic region. Health disparities are one way we can measure our progress toward achieving health equity.
How do we achieve health equity? We value all people equally. We optimize the conditions in which people are born, grow, live, work, learn and age. We work with other sectors to address the factors that influence health, including employment, housing, education, health care, public safety and food access. 1 We name racism as a force in determining how these social determinants are distributed. Read the APHA Health Equity report.
What are the social determinants of health?
According to the World Health Organization, the social determinants of health (SDH) are the conditions in which people are born, grow, work, live, and age, and the wider set of forces and systems shaping the conditions of daily life. These forces and systems include economic policies and systems, development agendas, social norms, social policies and political systems. Read more about social determinants of health.